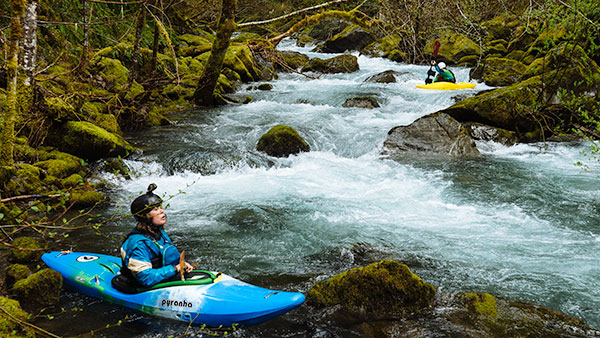 Zach Collier: I did this run in the early 2000s with my kayaking friends in college and it was a full on adventure. We accidentally put-in on a side creek before finally finding the North Fork of the Smith. It was a long, cold day.
In April 2017 I went back with a few friends to savor this beautiful stretch river. It's about a mile hike in and the last mile requires bushwhacking through dense forest. The whitewater is good and there are many log and log jam portages which make paddling the Upper North Fork a lot of work. The reward is a very wild, beautiful, and unspoiled place that very few people have been to.
The geology and forest is very different from the more commonly paddled section of this river downstream. Instead of the sparse forest and brownish peridotite of the Lower North Fork of the Smith River in California this section flows through the complicated Dothan Formation. This formation allows dense forest to grow and there is a huge variety of interesting rocks.